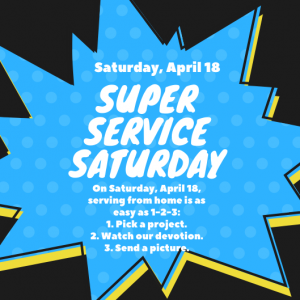 Super Service Saturday: Serve From Home!
Our Outreach Committee had planned a Super Service Saturday for April 18—but then the coronavirus happened, so we served from home instead! Serving from home means getting a little creative…but Wrightsville was up to the challenge!
It's not too late to serve. Choose a project here: https://www.wrightsvilleumc.org/serve-locally/.
(Don't make a special trip out — order supplies, use what you have at home, or stock up during your regular grocery run.)
 Then it's as easy as 1-2-3:
Check out our YouTube channel and Facebook page for a devotional about service from some Wrightsville friends.

Choose a project (or come up with your own!), and serve for 2-3 hours—or as much as you can!

Take a picture of yourself or your family serving. Post it on social media, and email it to:

christinat@wrightsvilleumc.org

.