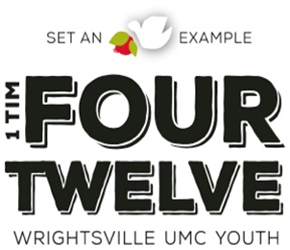 Youth Ministries
Wrightsville UMC 4:12 Youth
We base our youth program around the verse 1st Timothy 4:12 which says, "Don't let anyone look down on you because you are young, but set an example for the believers in speech, in conduct, in love, in faith and in purity."
Sign up to receive the 4:12 Youth Newsletter.
Text WUMC412Youth to 22828  and send Reminder Texts by texting @wumc4 to 81010
• Facebook: WUMC 412 Youth
• Instagram: wumc412youth
• Website: Wrightsvilleumc.org: Grow: Youth
Christina Norvell Director of Children and Youth Ministries at Wrightsville UMC
910-471- 9302
4:12 Youth Registration
Nationally, we have served on mission teams to:
Mountain City, TN
Atlanta, GA
Raleigh/Durham Area
Puerto Rico
Staten Island
Hinton Rural Life Center in Hayesville, NC
Heart Butte, MT
Nashville, TN
Houston, TX
Savannah, Ga
San Isidro, Costa Rica
Wilmington, NC
Globally, we support two children through Compassion International.
Welcome to a new 4:12 Year! 
4:12 Youth Group meets Sunday evenings from 5:30-7:00 in the Fellowship Hall. Grades 6-12 are invited! 
See Schedule Here
Sunday School
High School: 9:30-10:30: Meet at Zeke's Coffee Shop!
Middle School: 10:30-11:30: Meet in the Classroom and then we will head to the playground tables.
Praise Team
This band is open to singers and instrumentalists in grades 6-12. Besides leading worship on Youth Sunday and other youth events, this group works to strengthen their faith through their love of music.  This group is under the direction of Carey Avant cavant7@gmail.com
Youth Handbell Choir
Register Here for Youth Handbell Choir
Annual Youth Retreats & Trips
We are looking forward to traveling again for the 2021-2022 school year! Please check back for updates.
Fun-Raising!
We hope to resume Fun-Raising soon! 
Parking Cars on Holiday Weekends
We are fortunate enough to have prime beach parking. This is the easiest & fastest way to raise money for our 4:12 trips!
Memorial Day Weekend
July 4th Weekend
Labor Day Weekend
Flotilla (Saturday after Thanksgiving)
Purchase Your Stock Fundraiser!
May, June & July
The youth sell "stocks" to investors that wish to invest in their mission trips for $20 each. We are asking each stockholder to be in prayer for the youth during the week of the mission trip.  All stockholders will be invited to a stockholder dinner meeting to see your return on investment! If you would like to sponsor someone, please fill out a form and return to the church office with your donation attached. Questions? Please send Christina an email at fourtwelve@wrightsvilleumc.org. Forms are available in the office.
WUMC Confirmation Class 2022
Confirmation is offered for youth in grades 7-12. Confirmation is an opportunity to respond to the grace of God available to us in our baptism. Confirmation is our response of commitment and profession of faith.
HERE you will find the Confirmation schedule of events for 2021-2022
Sign Up for Confirmation HERE.
Please email Christina Norvell if you have any questions.
If your family would love to join Wrightsville UMC with your Confirmand, please attend one of these new member classes. 
Saturday, January 8th: 9-noon
Saturday, April 23rd: 9-noon