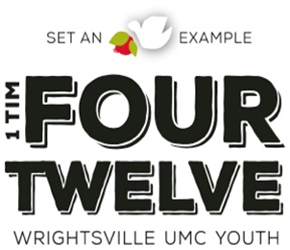 Youth Ministries
Wrightsville UMC 4:12 Youth
We base our entire youth program around the verse 1st Timothy 4:12 which says, "Don't let anyone look down on you because you are young, but set an example for the believers in speech, in conduct, in love, in faith and in purity."
Stay in the Loop with 4:12
Sign up to receive the 4:12 Youth Newsletter.
Text WUMC412Youth to 22828  and send Reminder Texts by texting @wumc4 to 81010
• Facebook: WUMC 412 Youth
• Instagram: wumc412youth
• Twitter: @wumc412youth
• Website: Wrightsvilleumc.org: Grow: Youth
Feel Free to Call, Text or Email me Anytime!
Christina Norvell
Director of Children and Youth Ministries at Wrightsville UMC
910-471- 9302
fourtwelve@wrightsvilleumc.org

DNOW SIGN-UP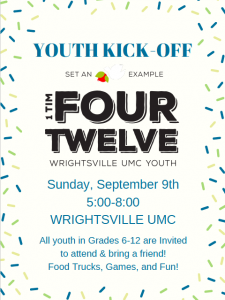 Youth Program
4:12 Youth Group meets every Sunday night from 6-8 pm in the Fellowship Hall following the traditional school calendar. We always have dinner, games and a fun program. 4:12 is for everyone in grades 6-12.
For more information, please email Christina Norvell at fourtwelve@wrightsvilleumc.org or call her at 910-471-9302.
Pick your Favorite Sunday Night to Feed the 

4:12

 Youth!   SIGN UP HERE
For the 2018 – 2019 4:12 schedule, forms & information, please click HERE.
We hope you will become a part of the 4:12 Family!
4:12 Youth are the hands and feet of Christ as we participate in many local, national and global missions. Locally we serve Early Bread, Mother Hubbard's Cupboard, Meals on Wheels, Snipes Academy, teenagers in custody of DSS, and many, many more!
Nationally, we have served on mission teams to:
Mountain City, TN
Atlanta, GA
Raleigh/Durham Area
Puerto Rico
Staten Island
Hinton Rural Life Center in Hayesville, NC
Heart Butte, MT
Nashville, TN
Houston, TX
Globally, we support two children through Compassion International, and we have provided over 100 pairs of shoes to Sole Hope in Uganda.
Life Groups
4:12 Life Groups are a wonderful way to dive deeper into God's Word within smaller groups.  Join us for dinner, games and Bible study!
God's Girlz – Middle School Girls: Tuesdays, 6-8 pm in the Youth Room (Grades 6-8)
Middle School Boys: Wednesdays 6:30-8:00 pm in the Fellowship Hall (Grades 6-8)
High School Guys & Gals: Tuesdays 6:00-8:00 pm in the Youth Room (Grades 9-12)
Sunday School
Sunday mornings: 9:45-10:45 am
Middle School Sunday School meets in Room 201 on the second floor.
High School Sunday School meets in the Youth Room.
Join us on Sunday mornings for worship at 8:15, 9:45 and 11:15 am.
Praise Band
This band is open to singers and instrumentalists in grades 6-12. It meets on Sundays from 4:30-6 pm. throughout the school year on the Fellowship Hall stage.
Besides leading worship on Youth Sunday and other youth events, this group works to strengthen their faith through their love of music.  This group is under the direction of Carey Avant.
Youth Choir!
This group is open to all youth in graeds 6-12. We meet every Tuesday from 5-6 throughout the school year in the Choir Room with Ms. Julia. Come join us!
Contact Julia (Julia@wrightsvilleumc.org)
Annual Youth Retreats & Trips
For more information, please email Christina Norvell at fourtwelve@wrightsvilleumc.org
or call/text her at 910-471-9302.
Ski Trip 2019: Snowshoe, WV
Dates: January 24-27, 2019 (Leave Thursday around 7 pm and return Sunday around 7 pm)
Grades 9-12
Follow us to wild, wonderful West Virginia for a great weekend of skiing and snowboarding!
Cost: $575.00
Camp Don Lee: Spring Retreat
Dates: April 5-7, 2019 (Leave Friday after school around 4 pm and return Sunday around 4 pm)
Grades 6-8
Kaleidoscope: (A North Carolina Conference Youth Event)
Price: TBA
Summer Mission trips for 2019 High School and Middle School coming soon.
Fun-Raising!
Parking Cars on Holiday Weekends
We are fortunate enough to have prime beach parking. This is the easiest & fastest way to raise money for our 4:12 trips!
Memorial Day Weekend
July 4th Weekend
Labor Day Weekend
Flotilla (Saturday after Thanksgiving)
3rd Annual Spring Spaghetti Dinner
Date TBA
Purchase Your Stock Fundraiser!
May, June & July
The youth sell "stocks" to investors that wish to invest in their mission trips for $20 each. We are asking each stockholder to be in prayer for the youth during the week of the mission trip.  All stockholders will be invited to a stockholder dinner meeting to see your return on investment! If you would like to sponsor someone, please fill out a form and return to the church office with your donation attached. Questions? Please send Christina an email at fourtwelve@wrightsvilleumc.org. Forms are available in the office.
Soup-er Bowl Sunday! Chili/Chowder Cook-off!
Sunday, February 3rd-Souper Bowl Sunday!
The whole congregation gets involved in cooking their favorite recipes.  There will be a tasting that morning from 9:30-11:30 am in the Fellowship Hall.  Chili and chowder are available for purchase to take home and enjoy for the big game!
Make plans to cook a pot of chili and volunteer!
WUMC Confirmation Class 2018
Confirmation is offered for youth in grades 7-12. Confirmation is an opportunity to respond to the grace of God available to us in our baptism. Confirmation is our response of commitment and profession of faith.
Below you will find the Confirmation schedule of events for 2019
Parent Meeting:               Sunday, February 25th-4:00-4:30 p.m. in the Agape room
Confirmation Classes:     4:30-6:00 p.m. in the Agape room
February 25th
March 4th
March 11th
March 18th
Two week break for Spring Break
April 8th
April 15th
April 22nd
April 29th
Confirmation Retreat: May 4th-6th at Lake Junaluska (details TBA)
May 12th: Mission Opportunity (details TBA)
May 17th: Confirmation dinner and dress rehearsal
May 20th: Confirmation Sunday at the 11:15 worship service
Please email Christina Norvell if you have any questions or would like to sign up your youth for Confirmation classes this Spring. We would love for your youth to join us for this experience.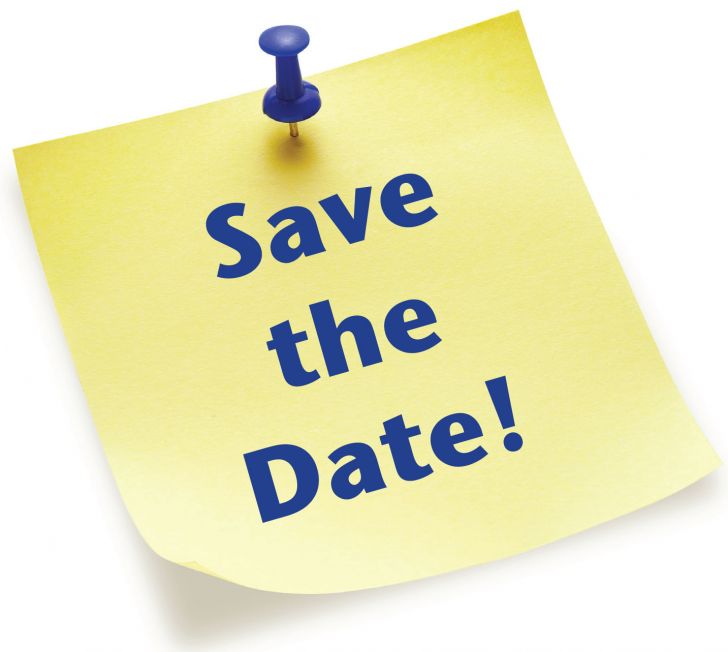 SAVE THE DATE
Youth Sunday 2019
February 17th
 4:12 Youth will lead all three worship services.
8:15, 9:45 and 11:15
This is our chance to show the congregation of WUMC how wonderful the 4:12 Youth are!