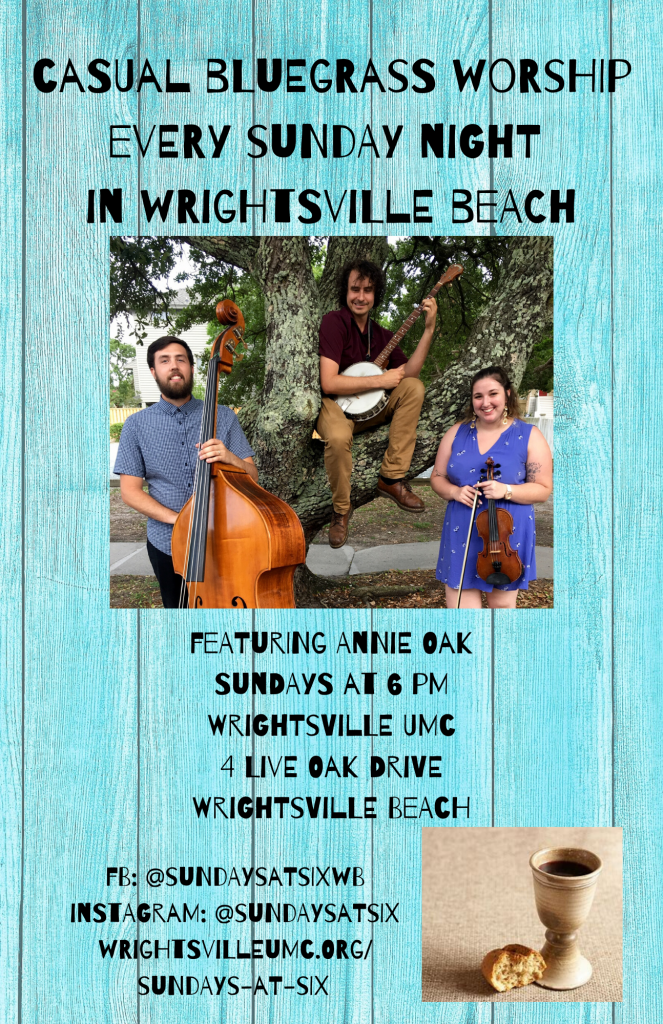 Worship Series: Jazz in June
6/28/20 – Jazz in June – Message by Bishop Hope Morgan Ward
6/21/20 – Jazz in June – Reflections on Jazz
6/14/20 – Jazz in June – "Blessed Are The…"
6/7/20 – Jazz in June (Part 1)
6/7/20 – Jazz in June (Part 2)

Join Pastor Christina Turner and our acoustic trio Annie Oak (Annie Jewell, David Canning, and Justin Lacy) for worship every Sunday evening at 6 pm virtually. We share a message, Scripture, prayer, conversation, and Communion. We're about connection, not perfection. On Facebook at 6 pm, you can join others (including Pastor Christina & our musicians) in real-time conversation for a Facebook Premiere of our service. (You don't have to have a Facebook account.) Or catch our service posted every Sunday at 6 pm on YouTube.
If you'd like to help serve, read, play music, or help lead worship, email Pastor Christina.
And don't forget to follow Sundays at Six on Facebook and Instagram to follow along with the latest!
We started this worship experience in 2018 to be a sacred space for everyone. So come just as you are — and worship the God who loves you, just as you are. #seeyousundaysatsix