Serving Our Wilmington, NC, Community
Be the Hands & Feet of Christ During COVID-19
Serving from home means getting a little creative…but Wrightsville is up to the challenge! Keep checking this page for opportunities to serve, which will be updated weekly.
It's as easy as 1-2-3:
1. Check out some devotionals about service from some Wrightsville friends below!
2. Choose a project (or come up with your own!), and serve for 2-3 hours—or as much as you can!
3. Take a picture of yourself or your family serving. Post it on social media, and email it to christinat@wrightsvilleumc.org. We'll post a slideshow of pictures!
Your Outreach Committee has compiled the following list of suggestions for activities that can be done at home for the remainder of April and beyond!
Devotionals
Projects (Updated 5/16/20)
Donate Books, Crafts, Games, Etc. to Our Snipes Book Drive
As part of our partnership with Snipes Academy (a K-5 school) through C4C (Congregations for Children) and in cooperation with NourishNC, we are collecting once-loved books and activities to help the students stay on track with their academic and physical growth goals. Students already have had a long break from the classroom due to the pandemic, even before the summer months!
Find in your home items that are in good condition–beginner books or chapter books, games, puzzles, word searches, flash cards, or any physical exercise tools (basketball, baseball or soccer balls, jump ropes, sidewalk chalk, and the like.
Drop off your items at the church on Thursday, May 21, or Thursday, May 28, between 10 am and 12 pm. You will not have to get out of your car or cross a social distance boundary. Social distancing and masks will be used.
If you do not have items at home but wish to donate money, send a check to Wrightsville UMC, P. O. Box 748, Wrightsville Beach, 28480 with your check marked "Snipes Book Drive." Or donate through the app or website and mark your donation "Snipes Book Drive."
Sew some masks for people who are most in need. Learn how here.
When you complete the masks, call Regina Hawse at Methodist Home for Children at 910-471-6088 to arrange pickup or delivery.
Give a Meal to Sick and Unsheltered Neighbors at Hope Recuperative Care
HRC could use our help by providing meals and supporting local restaurants the same time! Donate a gift card to a restaurant near HRC — or let them know what night you'd like to call in an order on their behalf. (Currently there are 6 residents.)
Suggested Restaurants Include:
Peno
(College Road Location)
Pine Valley Market (delivers!)
Call the house at (910) 399-4925 or email hoperecuperativecare@gmail.com to reserve your date to bring dinner!
Both LINC residents and Hope Recuperative Care residents can use Walmart gift cards — because once they are released from prison or leave Hope Recuperative Care, their needs are great.
Call (910) 399-4925 or email hoperecuperativecare@gmail.com to give gift cards to Hope Recuperative Care.
Call (910) 332-1132 or email info@lincnc.org to give gift cards to LINC.
Include some encouraging notes with your dinner or gift cards! You can find the mailing addresses at the websites above.
Host a Food and Toiletry Drive in Your Neighborhood for Mother Hubbard's Cupboard
Mother Hubbard's Cupboard's regular Spring Food Drive at area Harris Teeters is canceled – so they want YOU to have a food drive instead! Advertise a neighborhood food and toiletry drive on your neighborhood blog or asking neighbors drop off 2-3 nonperishable items. Or make a flyer and leave it in your neighbors' mailboxes asking them to leave out 2-3 cans of food for collection!
Have a container in your yard for dropoff – or go door-to-door to collect items from your neighbors' doorstep.
Mother Hubbard's Cupboard is located at 315 Red Cross Street downtown (at the corner of Red Cross and 4th Street). Please bring donations to the SIDE 4th Street door. Cars can line up and practice distance delivery–place your donations just inside the door.
Food can be dropped off on Wednesdays and Saturdays at 11:30 am. Do not enter the building. Someone will get your donations if you leave them at the door.
Go (Online) Shopping for LINC
Miss shopping? Shop online for the items that LINC (Leading Into New Communities) needs to welcome men and women who are reentering the community after incarceration. (LINC requests only new items at this time.)
Check out their Amazon Wishlist here.
Buy Restaurant Gift Cards for Healthcare Workers
You can do two things at once — show your support for workers on the front lines and support a small business in our community.
Give or send these gift cards to a healthcare worker or essential worker that you know. Or mail them to: NHRMC Resilience Team, P.O. Box 9000, Wilmington, NC 28402
Some restaurants near the hospital:
Fast Food:

Arby's
Wendy's
Hardee's
Burger King
Smoothie King
Make or Write Cards of Encouragement to Church Members
Use your creativity! If you have a specific person in mind, write their name on the card. If you don't, write a general card of encouragement.
Tips for Card Writing:
A printable coloring page for children is available here. Mail completed cards using your church directory–or take a picture and email to mikki@wrightsvilleumc.org.
Stuck for words? Here are a few suggestions, or include a favorite Bible verse.

I'm just sending a note and a smile to you today.
There is no one quite like you. Never forget how special you are.
Sending thoughts and smiles your way to encourage you today.
Thinking of you and hope your heart feels encouraged today.
My heart and thoughts are with you today.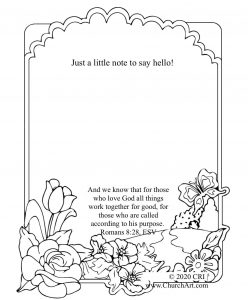 Make Cards of Encouragement for Vulnerable People in Our Community
Let's share some love with our neighbors who are served through Family Promise, A Safe Place, Hope Recuperative Care, and The Help Hub.
Learn more about the organization you're writing to…and maybe send a donation, too!
See above for tips on writing cards.
Make Blessing Bags or Go Shopping Online for Walking Tall or Help Hub
Making blessing bags involves filling a 1-gallon Ziploc bag with items requested by various charities. Not every one of the items needs to be in a bag. (See instructions for dropoff above.) Or "go shopping" for these items online – and make the blessing bags when your items arrive.
Please indicate for which charities your bags have been made.
SUGGESTIONS FOR WALKING TALL BLESSING BAGS:
Tuna packets
Small cans of pork and beans with pop top
Beef jerky
Small bottles of Gatorade or powdered packets
Sanitary or baby wipes
Large heavy-duty plastic contractor bag
Almonds
Protein bar
Small first aid kit
Advil
Lighter
Note of encouragement
SUGGESTIONS FOR HELP HUB BLESSING BAGS:
Granola bars/protein bars
Peanut butter/cheese crackers
Trail mix with dried fruit
Packaged nuts
Bottle of water
Contact Pastor Christina at christinat@wrightsvilleumc.org for info on dropoff!
Healthy? Under 65?
Mother Hubbard's
needs volunteers on Wednesdays and Saturdays from 11:30 am-3 pm.
To volunteer, you MUST email Jane Radack at
booradack@gmail.com
. (They will not accept volunteers who have not been in touch with Jane. They are taking many precautions to keep volunteers healthy and are an essential service!)
To drop off nonperishable food, take it to Red Cross St. (corner of 4th and Red Cross). They can be dropped off on Wednesdays and Saturdays at 11:30 am. Do not enter the building. Someone will get your donations if you leave them at the door.
Love and serve your neighbor.
Our Outreach Committee financially supports many organizations serving our neighbors who are vulnerable or in need. Our congregation also follows our servant Lord by getting our hands dirty and serving our neighbors hands-on!
A Safe Place
Assists survivors of commercial sexual exploitation and domestic trafficking by focusing on prevention, advocacy, and restoration. Learn more about A Safe Place.
Family Promise (Interfaith Hospitality Network/Family Promise of the Lower Cape Fear)
Provides temporary overnight housing and meals at churches for families with children experiencing homelessness, often because of domestic violence. Serve as a night or day host, provide transportation, or share dinner with our guests at WUMC each June and July! Learn more about Interfaith/Family Promise.
Hope Recuperative Care
Provides free temporary shelter to hospital patients who are medically ready to leave the hospital but are experiencing homelessness. Guests stay free of charge in a supportive, home-like environment. HRC is presently hosting five guests and will continue to welcome others, including immune-compromised persons who have been living on the streets. Learn more about
Hope Recuperative Care
.
LINC (Leading Into New Communities)
Provides transitional living and case management services to meet the immediate needs of men and women returning from prison, empowering men and women returning from incarceration to be productive members of our community. WUMC hosts quarterly dinners with our neighbors at LINC through our Racial Unity Committee and provides assistance as needed through donations. Learn more about LINC.
Mother Hubbard's Cupboard
An emergency food pantry that provides a 3-5 day supply of groceries to families and individuals in need. Drop off food anytime at WUMC or volunteer to stock, sort, and pack. We support Mother Hubbard's through First Foods Sunday (bringing in nonperishable food the first Sunday of the month) and food drives. Learn more about Mother Hubbard's Cupboard.
NourishNC
Provides healthy food for the 1 in 4 children in New Hanover County who go hungry every day. WUMC was blessed to provide food for 200 children through a food and donations drive in Spring 2018 and again in Spring 2019! Learn more about NourishNC.
Congregations 4 Children (C4C)/Snipes Academy
Provides supplies, teacher support, tutoring, field trips, and other special opportunities to the students of Snipes Academy of Art and Design, a Title 1 school in Wilmington. Learn more about C4C.
WARM (Wilmington Area Rebuilding Ministry)
Serves low-income homeowners in Brunswick, New Hanover, and Pender Counties, many of whom are elderly and/or disabled, by repairing, rebuilding, and remaking homes. Learn more about WARM.
Weekend Meals on Wheels
Provides nutritious meals and social contact to seniors and disabled neighbors on weekends. Serve with WUMC on every month when there is a 5th Saturday by contacting John Sandlin. Learn more about Weekend Meals on Wheels.
For more information about serving locally, please contact Pastor Christina at christinat@wrightsvilleumc.org.