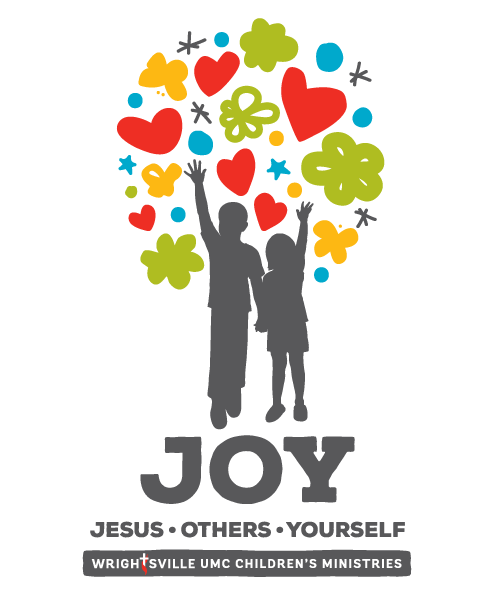 Children's Ministries
We look forward to seeing all of our Sunday Friends at Sunday School every Sunday morning from 9:45-10:45 am
Three Year Old Class: Room # 111 Teachers: Pam Mansbery, Kristi Midgett, Peggy Roberts, Kim Goodwin
Four Year Old Class: Room # 110 Teachers: Mikki Perry, Logan Sullivan, Emily McNamara, Logan Sullivan, Crystal Peebles, Kerry Murphy
Kindergarten: Room # 109 Teachers: Kristin Selby, Mary Konrady, Wortley Whitehead, Brittany Witmer, Cameron Pearson
First Grade: Room # 112 Teachers: Cathy Bagley, Melissa Schosek, Jessie Perry, Jess Bell, Caroline Beam, Sloan Turner
Second Grade: Room # 204B Teachers: Nicole Roche, Katie Datillo, Anna Hergenrader, Ashley Doyle
Third Grade: Room # 204 Teachers: Scarlet Campbell, Sebrell Singleton, Loren Rippy, Maggie Guggenheimer
Fourth and Fifth Grade: Room #203 Teachers: MaryBeth Hosier and Maddie Bullock
NURSERY (Birth-3 years old)
WUMC offers a loving, caring, and dedicated staff for our youngest members during all 3 worship services. Once your child turns 3 he/she may graduate to the 3 year old Sunday School class. Kathleen Crowley is our Nursery Coordinator and she can be found in our Nursery every Sunday.  ROOM 107
WIGGLE WORSHIP (Preschool age 3-4)
WUMC offers a preschool nursery for its youngest attendees every Sunday at the 8:30 and 11:15 services. Children will experience the beginning part of worship with their families and after they listen to the children's sermon they will be allowed to rejoin their parents or led to Wiggle Worship. Once the Worship service is over, "Wigglers" may be picked up in room 109 in the preschool hallway. Once a child enters Kindergarten they get to worship with their families in the Church Sanctuary. If you would like to join the rotation to provide loving care for our preschoolers during the 8:30 and 11:15 worship hours please contact Christina Norvell

SUNDAY SCHOOL
Faithful 5th
A Youth Group for all ladies and gentlemen currently in the 5th Grade! Join us in the Fellowship Hall for Dinner, Fellowship, And Fun!
We meet the first Sunday of every month from 5-7 pm.
Feb. 11th • March 4th • April 8th • May 6th  •  June 3rd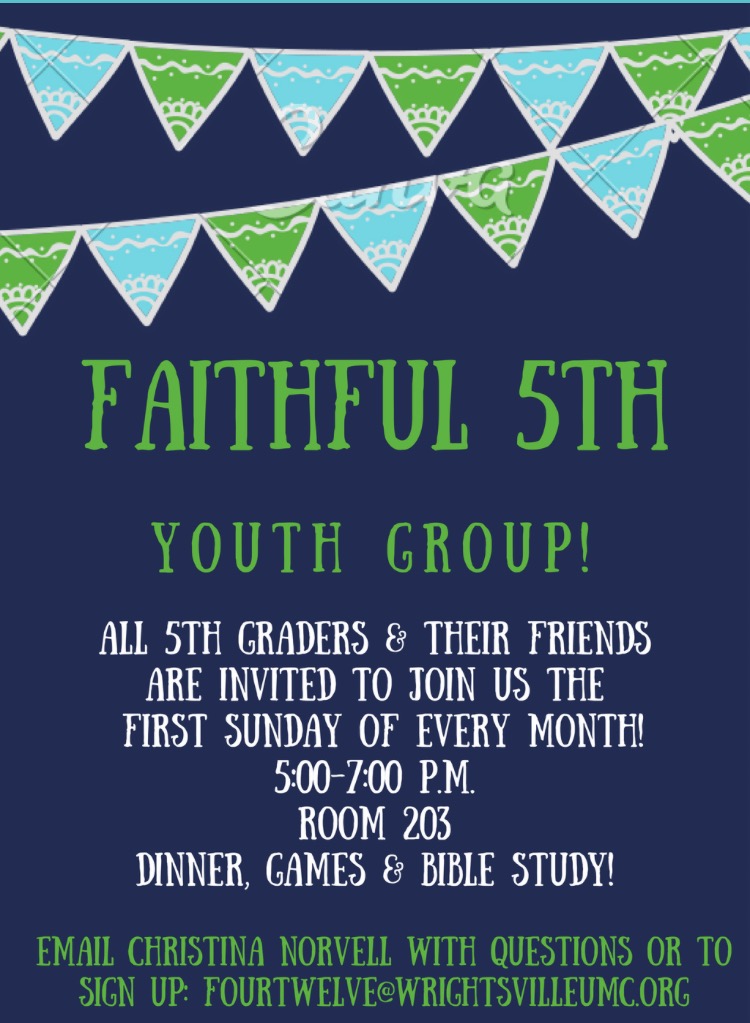 5:05 CHILDREN STUDIES (KINDERGARTEN-4TH GRADE)
WUMC offers a children's bible study throughout the school year. We meet the first Wednesday night of the month from 5:05 – 6:30 (directly after Wesley Choir Practice in Room 203 upstairs).  Join us for dinner and bible study!
Feb. 7th • March 7th • April 4th • May 2nd • June 6th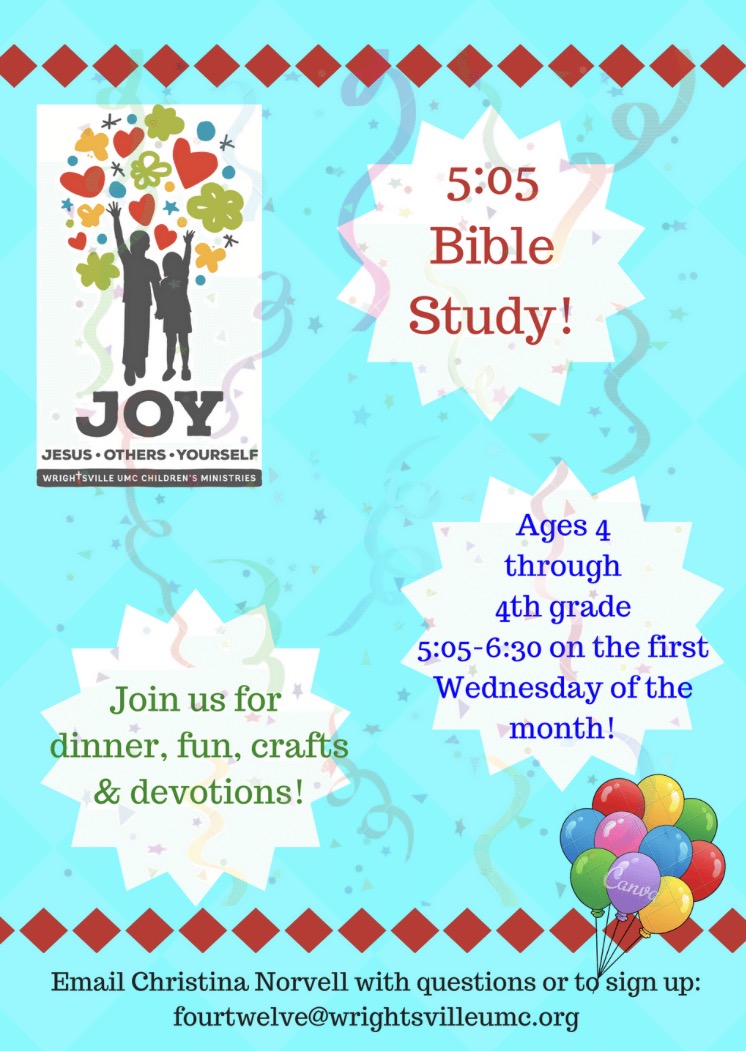 CHILDREN'S CHOIR
It is our goal at Wrightsville to offer something musically to everyone. Listed below are the various choirs, a brief description of each of them and their scheduled meeting times. If you have further questions regarding them of any aspect of our music program, don't hesitate to contact Julia at julia@wrightsvilleumc.org.
Choir Offerings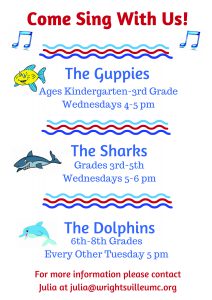 Wesley Choir
The Wesley Choir is the youngest of our choirs at Wrightsville, and it is open to all children in grades K – 3. It meets on Wednesdays from 4:00- 5:00 p.m. in the choir room throughout the school year. Rehearsals begin on the Wednesday following Labor Day. In addition to developing our singing voices and listening ears in this group, we do a variety of fun activities that strengthen our musical skills both as individuals and as an ensemble, such as playing percussive instruments, Orff instruments and colored bells. We also use creative movement and Dalcroze Eurythmics to strengthen our skills.  Although this group participates in worship several times throughout the school year, our main focus is on our weekly meetings and the fun, creativity and bonding that happens there as we grow as individuals, as a group and as young Christians. Contactjulia@wrightsvilleumc.org to join the fun!
Junior Choir
The Junior Choir is open to all children in Grades 3–5. This group meets on Wednesdays from 5:00-6:00 in the choir room.  Rehearsals begin the Wednesday after Labor Day. This group focuses on musical development and singing skills. We learn to read music, sing in parts and play handchimes and recorders.  We participate in worship approximately four times throughout the school year, as well as community service events. Contact julia@wrightsvilleumc.org for more information about this great group!
VACATION BIBLE SCHOOL
Save the Date for 2018! June 18th-21st! 9:00-12:30 Email Christina Norvell to volunteer! Fourtwelve@wrightsvilleumc.org
MUSICAL THEATRE CAMP
What a BLAST we had at Camp this summer!  Hope you'll join us next year!  Stay tuned for details for next summer!